Rodin's The Kiss at Margate's Turner Contemporary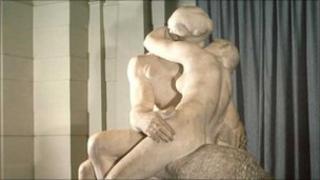 Augusta Rodin's The Kiss is to go on show at the new Turner Contemporary in Margate later this year.
The life-size marble sculpture will go on show in the Sunley Gallery between 4 October and 2 September 2012.
The work was voted the nation's favourite work of art in a 2003 poll and will be on loan from the Tate collection.
The embracing couple come from a true 13th Century story of forbidden love, immortalised in Dante's Inferno.
The couple are the adulterous lovers Paolo Malatesta and Francesca da Rimini, who were slain by Francesca's outraged husband.
The statue, which is 1.8m (6ft) tall and weighs 3,180kg (7,010lb) depicts how the lovers' passion grew as they read the story of Lancelot and Guinevere together.
Now worth £10 million, The Kiss was commissioned for £1,000 by the art lover Edward Warren.
Mr Warren kept the statue in a stable block at his Lewes home in Sussex until it was bought by the Tate Gallery in 1933.