Kent Police Federation adverts attack 'criminal' cuts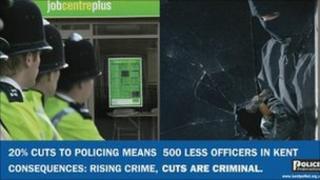 The body which represents rank and file police officers in Kent has launched an advertising campaign warning fewer officers will spark rising crime.
The Kent Police Federation is placing adverts in local newspapers condemning "criminal" budget cuts.
It said it wanted to inform the public of the "stark reality" of the cuts resulting from a 20% budget reduction, with Kent Police saving £53m by 2015.
The Home Office said the adverts were irresponsible and played on fear.
It is thought 1,000 civilian staff and 500 officers could lose their jobs as Kent Police tackles the enforced budget reduction.
The adverts, which will appear over the next few days, say: "20% cuts in policing means 500 less officers in Kent. Consequences: Rising crime, cuts are criminal."
'Wholly irresponsible'
Ian Pointon, chairman of the Kent Police Federation, said: "The government has slashed spending on the police by 20% and told the public the front line won't be affected.
"In reality they don't even understand what the front line is - it is certainly far more than uniformed police officers on patrol, as important as they are.
"A government reassurance that cuts of this level can be found solely from the 'back office' or through 'efficiency savings' is at best poorly judged spin.
"In reality the government set the level of cuts without understanding the impact - an approach that is wholly irresponsible."
Mr Pointon added: "Cuts of this depth won't be made by purchasing fewer paper clips, abolishing a form or two, or by reducing important back office functions that support the front line.
"Rather the front line will be cut and crime will rise.
"The government is playing fast and loose with the safety of the people of Kent."
The Kent adverts are part of a campaign by the Police Federation throughout England and Wales.
A Home Office spokesperson said: "It is irresponsible to play on people's fears.
"The police budget settlement is tough but fair, and - alongside the government's police reforms - will leave the force more than capable of fighting and cutting crime."