Kent rail action plan handed to transport minister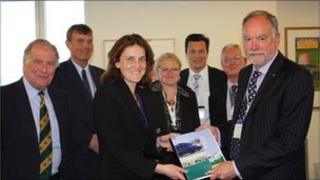 Demands for major changes to rail services in Kent have been handed to the government.
Kent County Council members presented the rail action plan for Kent to Transport Minister Theresa Villers in a meeting at Westminster.
The proposals call for regular peak trains to run to London's West End and City stations from every major town in the county.
The demands could influence the next rail franchise, which starts in 2014.
Also featured in the 15-point plan are proposals for a City service on the Maidstone East line to Blackfriars, reduced journey times in North Kent, and high speed services all day to Deal and Sandwich.
'Persuasive contribution'
Council leader Paul Carter said: "The rail action plan is about standing up for Kent's rail users and making sure we get the service we want.
"In bringing together the views of rail travellers and local communities across Kent, it is a unique and persuasive contribution."
KCC has already pledged £150,000 to cover the cost of a limited high speed service extension to Deal and Sandwich, which is due to start in October.
It has also called on the Department for Transport, which will decide on the next franchise, to limit fare increases to the current level of 3% above inflation.
The action plan follows a series of rail summit meetings organised by Kent County Council, at which passengers have expressed their concerns about services.