Margate's Dreamland faces compulsory purchase order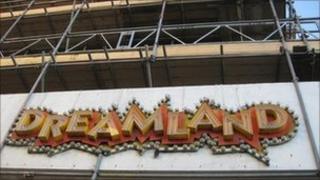 A compulsory purchase order is to be served on the disused Dreamland theme park in Margate after negotiations with the current owner fell through.
Thanet District Council is backing a scheme to turn the site into a heritage park with historic rides and sideshows to help regenerate the Kent town.
Transfer of the land had been agreed in principle by landowner Margate Town Centre Regeneration Company.
But the council said it had been unable to agree details after a year of talks.
Vintage rides salvaged from Blackpool and Southport have been bought for the £12m heritage amusement park on Margate seafront.
The attraction is to be centred on the Grade II listed Scenic Railway, the oldest rollercoaster in the UK, badly damaged in an arson attack in 2008.
The park will be run by the Dreamland Trust, which will be given the site by the council for a peppercorn rent.
'Huge amounts'
The council said millions had already been invested in the project by Thanet, the government and the Heritage Lottery Fund.
The heritage amusement park is seen as a vital ingredient in the regeneration of Margate, along with the Turner Contemporary art gallery which opened further along the seafront last month.
"Because of the importance of this site to the town's future, we need to take action to ensure that the heritage amusement park goes ahead," said the council's chief executive Richard Samuel.
"Huge amounts of money have already been invested to bring this project to fruition and we can wait no longer for agreement from the landowners.
"This is not something we wanted to do, but the failure of the owners to reach a sensible agreement has left us with no choice but to take compulsory purchase action.
"We have been in negotiations for many months now and we feel that we have been generous to a fault."
Chair of the Dreamland Trust, Nick Laister, said: "With all the technical work now complete and a substantial part of the funding in place, the acquisition of the site by the council will allow the trust to commence work on the implementation of what is a key project for the regeneration of Margate."