Kent heritage site bridge named after Prince William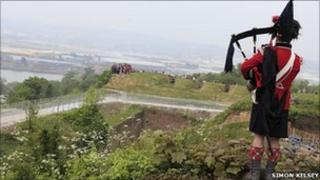 A new footbridge connecting two parts of a Kent heritage site has been named after Prince William.
The bridge between Fort Amherst and the Great Lines Heritage Park, in Chatham, was officially opened on 29 April.
On the same day the Napoleonic fort fired a 21-gun salute as part of the royal wedding celebrations for Prince William and Kate Middleton.
Chatham World Heritage manager, Joanne Cable, called the bridge a "tremendous asset" for the site.
Pam Wood, vice chair of the Friends of Great Lines Heritage Park, said: "The area we are now so proud of has at last started to come together and be world class."
The Great Lines and Fort Amherst, whose saluting battery is also named after Prince William, form part of the site put forward for World Heritage status by Medway Council.
Other attractions included in the bid are Chatham Historic Dockyard, Upnor Castle, Brompton village and barracks, and the Pembroke site's former naval barracks which are now part of Medway's university campus.