High-speed train boost for Sandwich and Deal in Kent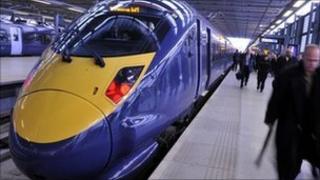 More passengers are to benefit from the high-speed rail service connecting Kent with London, it has been announced.
From October, high-speed trains will stop at Sandwich and Deal before following the established route via Dover to St Pancras.
Kent County Council (KCC) said it would support the £150,000 cost of the extra train services in an attempt to attract investment to the area.
Rail campaigners have welcomed the announcement.
The high-speed trains will leave Sandwich at 0551, 0617 and 0647 every weekday, calling at Deal five minutes later.
'Tremendous incentive'
Trains will return from St Pancras at 1740 and 1840.
KCC said the service would cut the journey time from Sandwich and Deal to London from about two hours to 90 minutes.
The area was dealt a blow in February when drugs manufacturer Pfizer announced it was closing its Sandwich site, which employs 2,400 people.
Council leader Paul Carter said: "KCC has pump-primed the service and it is now up to local businesses and residents to take full advantage."
The Conservative MP for Thanet South, Laura Sandys, said it would be a "tremendous incentive" for new businesses to locate to east Kent.
The announcement follows a series of rail summit meetings organised by Kent County Council, at which passengers have expressed their concerns about services.