Thanet Earth targeted in 'Kent exploitation' protest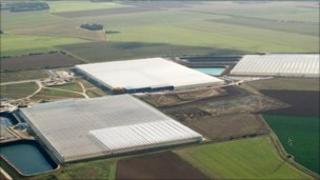 Campaigners have staged protests outside two supermarkets in Kent to highlight what they dub exploitation of workers by a supplier's agency staff.
Unite says agricultural producer Thanet Earth is failing to adhere to legal requirements on how agency employees working there are treated.
The protests were outside Tesco and Marks and Spencer in Broadstairs.
Thanet Earth says it uses licensed agencies but has commissioned an independent inquiry into the claims.
'Best practice'
Unite represents some of the migrant agency workers based at the giant Broadstairs complex, which produces salad vegetables.
It has compiled a list of what it says are serious allegations raised by workers there and submitted them to the Gangmasters Licensing Authority (GLA), which regulates agency practices.
A spokesman said workers have complained of being denied holidays - or discriminated against if they take them - and continue to be employed on a casual basis when they should be offered the protection of fixed contracts.
But Thanet Earth Marketing, which employs several hundred workers in peak season, says it carried out its own investigation when Unite first made the allegations in March 2010, which it says was concluded satisfactorily without any action.
It has now invited the GLA to investigate and expects the results next month.
It says the Unite allegations relate only to agency staff and not to its direct employees.
'Take action'
In a statement it added: "All the agencies used by Thanet Earth are fully licensed and audited by the Gangmasters Licensing Authority. All legal safeguards are in place and up to date, with best practice followed throughout."
But Unite says the company, which supplies Tesco, Sainsbury's, Asda and Marks and Spencer, and boasts of its green credentials, refuses to recognise unions and has failed to police the way the agencies operate.
Neil Court, of the GLA, said: "We believe that Thanet Earth Marketing are a responsible company, and I don't think people should have any concerns on the basis of the allegations that have been made.
"If we find evidence of non-compliance, we will take action against the relevant licensed labour providers... even if that means removing the licence of that labour provider."