Conservative candidate quits over Facebook 'sluts' slur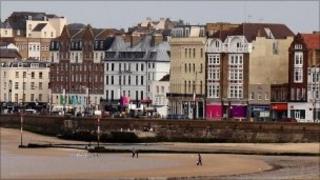 A Kent Conservative election candidate has resigned after referring to local women as "sluts" in a discussion on Facebook.
Payam Tamiz, 21, was due to stand for election to Thanet District Council's Salmestone ward, in Margate, on 5 May.
The Conservative Party called the comments "outrageous and unacceptable", while Mr Tamiz, of Margate, apologised "unreservedly" for any offence.
Labour, the Liberal Democrats and UKIP have also condemned his comments.
'Poor judgement'
Dan Daley, a Lib Dem member of Kent County Council, said Mr Tamiz's comments, made in July last year before he was a Conservative party member, were "lacking in judgement".
He added: "If he has made these disparaging remarks about women then the man is exceptionally foolish, particularly when he's standing for local election in that area, and particularly when 50% of the people he wants to represent are women."
During a Facebook discussion in which he said he wanted to "settle down with someone decent", Mr Tamiz claimed it was "impossible to find someone with morals and a bit of self-respect".
He continued: "It's the ones that look respectable and decent but underneath it all are complete sluts that you got to watch out for."
The University of Westminster law graduate also said women in the area were "completely shameless".
He said he now wanted to move on and put his "poor judgement" behind him.
He added: "I understand my Facebook remarks were inappropriate and unacceptable and I unreservedly apologise for the offence I have caused."
Labour MP Heidi Alexander criticised Mr Tamiz and questioned the Tory party's judgement.
"People will rightly be asking how someone with such disgraceful views came to be selected as a Conservative candidate in the first place," she said.
Mo Elenor, UKIP's co-ordinator for East Kent, called the comments "ill-advised and inaccurate".