Jailed heroin restraint mother Julia Saker loses appeal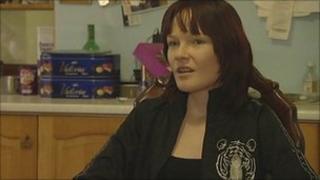 A Kent mother who was jailed for tying up her daughter to stop her buying heroin has lost an appeal against her prison sentence.
Julia Saker, 50, from Dover, was jailed for 12 months at Canterbury Crown Court in January after pleading guilty to false imprisonment.
She taped her daughter's legs together to stop her leaving the house.
Her legal fight for a non-custodial sentence went to the Appeal Court, but judges dismissed the case.
'End of tether'
After Mrs Saker was jailed, her daughter Tabitha said she would swap places with her mother if she could.
Julia Saker's husband Tim said his wife, an administrator for Kent County Council, had tried to stop Tabitha, 19, leaving the house in October last year by taping her legs together round her jeans.
Patrick Lawrence QC, representing Mrs Saker, argued she had only acted as any loving mother would have done.
He said: "The mother was at the end of her tether. She had no intention of her daughter being harmed at all."
Mr Lawrence said: "The acts of false imprisonment were undeniably done out of concern for the protection of her daughter.
That is why the public would be unable to say in this case that this lady belonged in prison."
'Supporting violence'
But Mr Justice Cooke, sitting with two other judges, said: "We understand that she was doing her best on a tremendously difficult situation."
But he added: "She was also there supporting violence to bully or scare her child into not using drugs."
He said: "No parent could fail to understand the quandary in which the parents of this girl were put.
"However she could have sought the help of the authorities, instead of imprisoning her in this extremely misguided manner."
Mr Justice Cook said many judges would have thought long and hard over the sentence and may have reached a different conclusion.
But he added: "We cannot however say that the judge was wrong in concluding that only a sentence of immediate imprisonment was justified."
After the hearing, Charlie Elphicke, Tory MP for Dover and Deal, said the sentencing judge had been technically within the guidelines.
Mr Elphicke, who has written to Justice Secretary Ken Clarke and the Lord Chief Justice, has called for greater accountability of the judiciary in relation to sentencing.
Adding that the case had led to concern from an enormous number of constituents, he said: "They are very clear that Julia should not have gone to jail. Look, what would any parent do in this situation?
"And the idea that the authorities would step in, in this kind of case, most people locally think is a laughable idea.
"I think when it comes to sentencing one needs to have a special regard and special leniency where a parent is motivated by protecting a child."