Crowds flock to Margate's Turner Contemporary opening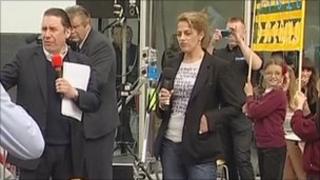 Thousands queued to be among the first to visit Margate's new Turner Contemporary art gallery, opened by Tracey Emin and Jools Holland.
Artist Emin, who grew up in Margate, and musician Holland, whose grandmother lived in the Kent town, were joined by local school children for the ceremony.
"In Margate, first there were the Danes, then the Vikings," said Emin.
"Now there's art and art is going to be the strongest and the best thing that has ever happened to Margate."
The seafront was packed with spectators, who later streamed into the £17.5m gallery built on the spot where the painter JMW Turner used to stay when he visited the town.
Holland, who lives near Rochester, led the countdown to the opening.
"When I was a small child my grandmother had a guest house in Margate," he said.
"I thought, 'Well I came here as a small child and I like the skies as well,' and then I realised that's where the similarity between me and Turner ended."
Turner, the great seascape and landscape painter, started school in Margate in 1786 when he was 11 and returned many times during his life.
The gallery bearing his name was designed by world-renowned architect David Chipperfield and funded by Kent County Council, Arts Council England and the National Lottery among others.
The town has high hopes that it will do for the down-at-heel town what Frank Gehry's Guggenheim Museum has done for the fortunes of Bilbao in Northern Spain.
Since its opening in 1997, the gallery - featured in 1999 James Bond film The World is Not Enough - has attracted lovers of both art and architecture.
Emin herself has said the gallery will be a "phoenix that will raise Margate out of the ashes".