Kent health trusts among worst for staff bullying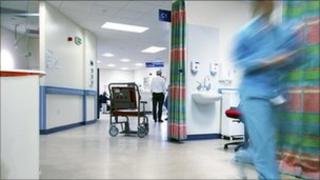 Levels of staff bullying at some of Kent's health trusts are among the worst in the country.
An NHS staff survey shows that one in five workers at hospitals in Medway and Dartford said they were harassed or abused by colleagues in 2010.
In the ambulance service which covers the county the rate was even higher, at 23%.
All three trusts say they have a zero tolerance policy on bullying and take the staff concerns very seriously.
'Scenario for bullying'
The figures, from the Care Quality Commission (CQC) did not come as a surprise to public sector trade union Unison, which believes the problem will only get worse because of planned NHS cuts.
Zoe Van Dyke, Unison's regional organiser in Kent, said: "The pressures on trusts to meet targets are huge and they are required to do that within a budget that doesn't really meet the need.
"The scenario just hands itself to bullying, and it's going to happen more and more."
At Medway NHS Foundation Trust, which manages Medway Maritime Hospital, one in five of staff said they had been picked on.
A spokesman for the trust said very few of its staff made formal complaints about bullying, but that all were taken seriously.
He added: "We recognise some members of staff may feel uncomfortable about raising their concerns and we have encouraged staff to report incidents. We will be introducing a personal harassment contact service in the next two months to provide additional support."
Private counselling
Dartford and Gravesham NHS Trust, which manages Darent Valley Hospital, already runs a similar service. The trust also gives its workers access to private counselling, but its levels of staff bullying were just behind Medway's, at 19%.
The survey results put both hospitals in the worst 20% of similar health providers nationwide, according to the CQC's figures. At the worst performing hospital 23% of staff said they had been bullied.
Almost one in four staff at South East Coast Ambulance Service (SECAmb) said they had been harassed by colleagues in the last year.
A spokesman for the trust said it also has a team of specially trained bullying and harassment advisors. He added: "The trust is working to establish the reasons for the increase in staff feeling affected by this issue and is developing a strategy to address this and the causes and behaviours behind it."
This figure put SECAmb in the CQC's bottom 20% of ambulance trusts, the worst of which saw 28% of staff bullied.
Just two years ago the then Healthcare Commission chairman, Sir Ian Kennedy, said bullying was something that worried him "more than anything else" in the NHS.
The British Medical Association believes NHS managers often mistakenly see bullying as a way of motivating staff and has called for a change of culture.