River alert after pollution leak in Kent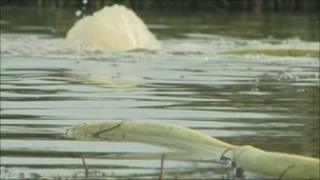 People are being warned to avoid any contact with the water in a Kent river following a "major pollution" incident.
The Environment Agency said sewage sludge spilt into the Newmill Channel in Rolvenden, near Tenterden on Friday.
It is not yet known how the effluent from Southern Water's waste water treatment plant has affected wildlife in the stream.
The agency said staff worked through the night and on Saturday to boost levels of oxygen in the water.
'Long term risk'
Environment manager Michael Turner said: "Our officers have been working tirelessly around the clock, alongside Southern Water, to control the pollution and we are starting to see signs that the situation is improving, with dissolved oxygen levels in the water increasing.
"The operation is going well so far, but this is a major pollution incident and it will be some weeks before the damage is rectified.
"Ashford Borough Council environmental health advises that people and their pets avoid contact with water in the Newmill Channel.
"We are posting signage up to warn people of the hazard."
He added: "Currently we believe there is sewage sludge sitting on the bottom of the watercourse, which may pose a longer term risk to the fish population.
"Fortunately, while some fish and other wildlife have been affected by the spillage, we are confident that our early intervention has significantly reduced the potential impact.
"We will continue to aerate the river and monitor oxygen levels to make sure that wildlife can survive."