Debts in Medway reach record levels, CAB claims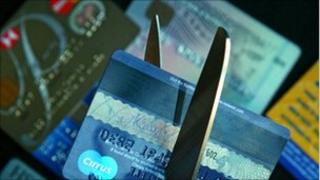 Debt and house repossession rates in the Medway towns have reached record levels, according to the Citizens' Advice Bureau.
The organisation said it was seeing more than 60 people each week with collective debts of more than £2m.
One of the county's credit unions has told the government to bring in tighter controls for high-interest lenders.
Conservative MP Mark Reckless said the financial strain was down to the previous government's record debts.
Dan McDonald, the CAB's chief operating officer, said Medway was breaking records every week.
"Just last week we had nearly £2.5m worth of debt coming through our doors, which is on average £31,000 per person," he added.
"This is all unsecured debt, so we're not talking about mortgages. It's non-priority debts like credit cards, store cards and doorstep lending."
The CAB also said there were between 70 and 80 house repossession hearings in Medway every week.
'Considerably worse'
John Fowler, from the credit union Kent Savers, is worried people are accepting debt as part of their lives.
"I think the whole economic forecast is that things are going to get considerably worse," he said.
Mr Fowler has also called on the government to tackle lenders charging the highest interest, some of them with rates of up to 4,000%.
Mark Reckless, the Conservative MP for Rochester and Strood, feared banning doorstep lenders could encourage people to turn to loan sharks out of desperation.
"If people are in desperate straits they should go to people like the CAB and try to get their payments on a sustainable basis.
"The situation for the government is similar to the householder that's borrowed too much. I think people understand we do need to put the public finances back on track."