Margate and Ramsgate children 'have not seen beach'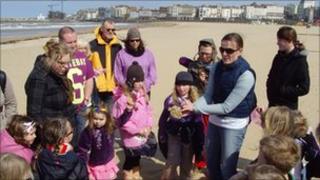 Children who have grown up in Kent coastal towns but have never been to the beach are being encouraged to visit the seaside.
Pupils from Margate and Ramsgate have regularly told school workers they have never been on the sands before.
Thanet council said data had shown there were families in more deprived areas who did not visit the beach.
The authority has received £100,000 from the Big Lottery Fund to encourage locals to explore the coast.
'Fathers and children'
A council spokeswoman said: "Data has shown there are people who don't go to the beach.
"We have families in Margate and Ramsgate - the more deprived areas - who have never taken their children."
She said when children from Newington Kids Club in Ramsgate were taken to Dumpton Gap, some of them said they had never been to the beach before.
And when council project officers go into schools, they regularly ask children if they have visited the beach. In nearly every session, there are some children who say no.
One strategy is to provide activities for families - particularly fathers with their children - so they could take part in events on the beach.
A project officer has been appointed and has started running "rockpooling safaris" for local primary pupils.
Activities coming up include a fun day on Margate beach and a "fit and healthy" day on the sands at Ramsgate.
Thanet Coast project manager Tony Child said: "Footprints in the Sand is all about encouraging those people who may not usually get out and about to go down to the shore to enjoy, look after and learn more about our wonderful coastline.
"It's probably the biggest open space in Thanet and we want everyone to make the most of it.
The £100,000 grant from the Big Lottery Fund is being administered by Natural England as part of its Access to Nature programme.