Georgian ice house restored at Hole Park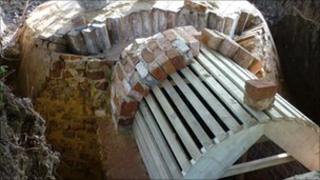 Restoration of an ice house built in the 18th Century is nearly complete at a Kent attraction.
The ice house at Hole Park Gardens, Rolvenden, has been repaired at a cost of £25,000 with support from Natural England.
Owner Edward Barham said it had lain forgotten and hidden along a pathway to woodland but would reopen next Sunday.
Georgian builders built the structure to store ice for drinks before freezers were invented.
Mr Barham said it was probably built during the 1740s and includes an egg-shaped underground brick chamber with a brick entrance tunnel.
It is also sited near a large pond which would have been where the ice was harvested.
Mr Barham said recent demonstrations had shown ice could easily be stored for 12 months in such structures.
Restoration work started last autumn.