Dame Kelly names Channel ferry in ceremony at Dover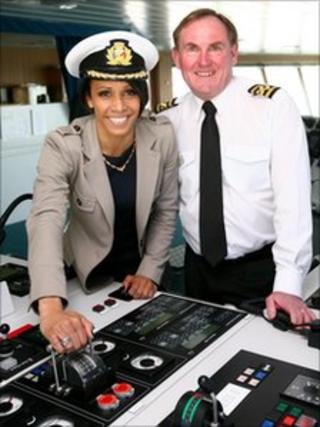 Double Olympic gold medallist Dame Kelly Holmes has named a cross-Channel ferry, said to be the largest ever to operate between Calais and Dover.
The Spirit of Britain, which cost about £150m, can hold 2,000 passengers and has four engines.
The P&O Ferries vessel is almost twice the size of the Pride of Dover, which it has replaced.
Dame Kelly joined customers and business representatives on board the ship for the ceremony in Dover.
'Leviathan'
The 40-year-old athlete, who joined 300 VIPs on the ferry at Dover's Eastern Docks, said: "As a record-breaker myself, I always take a close interest in 'firsts'.
"I am pleased to note that the Spirit Of Britain sets many new records, not least for being the biggest, longest and widest ferry ever to operate on the Dover Strait."
P&O described the Sprit of Britain as a "leviathan of the seas" and said it represented "a new era" in cross-Channel travel.
The ferry, which weighs 49,000 tonnes, is 700ft (213m) long and will make five journeys between Dover to Calais every 24 hours.
It has three vehicle decks capable of carrying nearly two and a half miles (4km) of traffic end to end.
Its sister ship, the Spirit of France, is due for delivery in September.