Chatham's Historic Dockyard on world heritage bid list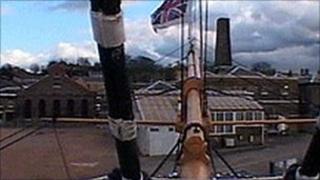 Chatham's Historic Dockyard and its defences have moved a step closer to getting World Heritage Site status.
The tourist attraction has been included on a list of 11 sites across the UK and its overseas territories.
The government has forwarded the list to Unesco, where a committee will decide whether they should become World Heritage Sites.
Medway Council and the Historic Dockyard Chatham started working on the bid in 2007.
'Important legacy'
At the time, heritage director at the Historic Dockyard Chatham Richard Holdsworth said the aim was for people to recognise the buildings and structures as "incredibly important buildings" that helped make Britain.
When making the bid, Medway Council said Chatham's naval and military installations played a crucial role in creating and supporting Britain's navy, and formed an internationally important legacy.
The proposed site included Fort Amherst, Upnor Castle, Brompton village and barracks, the Pembroke site's former naval barracks, which are now part of Medway's university campus, and the Great Lines.
The boundaries were later extended to include the River Medway.
Tourism and heritage minister John Penrose said the 11 sites on the list were "fantastic examples" of the country's cultural and natural heritage.
The world heritage list run by Unesco encourages the identification, protection and preservation of cultural and natural heritage around the globe.
The UK proposes one site each year, with bids being prepared locally, but submitted by the government.
A statement from the Department for Culture, Media and Sport said the new "tentative list" was being submitted to Unesco with the aim of nominating new sites from 2012, but there would not necessarily be a new nomination every year.
Whether sites on the list were given a nomination slot depended on the robustness of their case and the likelihood of becoming a World Heritage Site, the statement added.