Deadline for 'eyesore' hotel overlooking Turner gallery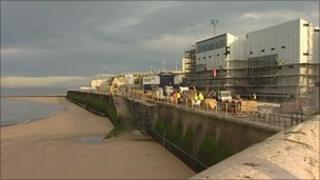 A derelict building in Margate will be demolished unless a developer can be found to bring it back into use, a district council has decided.
The Fort Road Hotel, which has been empty for more than 20 years, overlooks the £17.4m Turner Contemporary art gallery.
Thanet Council has said the opening of the gallery next month is a "unique opportunity" to spruce up the town.
The council bought the hotel by compulsory purchase order last year.
It said it would market the property to see if it can be redeveloped as a small hotel and restaurant
If there is no interest within six months, the council will seek consent to demolish the building, which lies within Margate's conservation area.
'Can't wait forever'
The Turner Contemporary will open to the public on 16 April and is located on the seafront site of a cottage where the 19th Century artist JMW Turner lived.
Madeline Homer, the council's director of community services, said the Fort Road Hotel was a "property full of history".
"It's one of the few buildings surrounding the gallery that Turner would recognise from his era," she said.
"For that reason, it's vital that the council does what it can to find a new use for this building, which we now own.
"Of course, we can't wait forever, with an eyesore looming over Turner Contemporary, so that's why we've set a deadline."