Canterbury Cathedral library reopens after renovation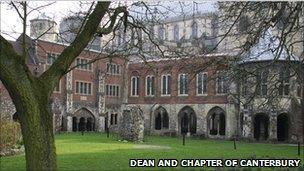 Canterbury Cathedral is set to reopen its library doors after an 18-month refurbishment project.
The renovation work includes the installation of climate-controlling equipment to protect the collection of more than 50,000 books and pamphlets.
The recent restoration has provided a new copper roof, hi-tech insulation, new heating system and secondary glazing to the library buildings.
The work came in below budget at just over £1m.
Cathedral librarian Karen Brayshaw said: "I am excited about the reopening of the Cathedral library because once again such a rich resource of interesting and significant books will be accessible to our many readers."
There has been a library at the cathedral for more than 1,000 years. The contents of the original medieval library was mostly dispersed in the 16th Century.
The current collection has grown steadily since 1540. It holds titles on church history, older theology, national and local history, travel, natural science, medicine and the anti-slavery movement.
Canon Christopher Irvine said: "Books are like old friends, and they remind me that there's always more to discover about the world than we know, or even imagine.
The reopening ceremony will be held on 31 March and will include an exhibition showcasing the cathedral's historic collections in the library.