HMP Canterbury praised after spot inspection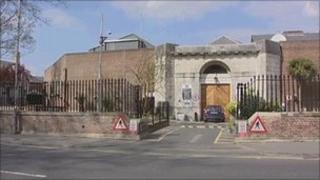 A jail in east Kent has been praised by prison inspectors after an unannounced spot check.
HMP Canterbury is one of two in England and Wales to hold only foreign nationals.
In 2007, inspectors commended the prison for fulfilling its new role "despite little central guidance".
In the latest report, inspectors found HMP Canterbury remained safe, with improved activities and good staff-prisoner relationships.
Chief Inspector of Prisons Nick Hardwick said inspectors also found that race relation issues were well-managed.
Resettlement strategy
The report said there was little apparent bullying, well-managed security and good care for those at risk of self-harm.
Inspectors said use of force was low, but governance and monitoring arrangements required improvement.
They also said the Prison Service still lacked a national policy on how the needs of foreign nationals should be met and late notice of removals inhibited support for prisoners who were being removed.
Michael Spurr, chief executive officer of the National Offender Management Service, which runs the Probation Service and Prison Service, said it was a positive report.
He said improved strategic management of resettlement and a new resettlement centre would help protect the public and reduce the chance of reoffending.