'More power' for Kent police community support officers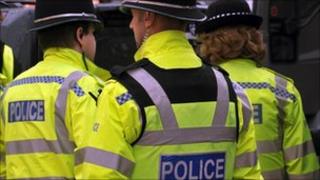 Police community support officers (PCSOs) in Kent could be given more powers, according to the county's police authority.
The move would see PCSOs dealing with issues including underage drinking, truancy, fireworks and graffiti.
Once a training plan has been formed, Chief Constable Ian Learmonth could legally grant about 13 new powers.
The authority said it was important the roles of PCSOs and police officers remained distinct.
'Value for money'
Ann Barnes, chairwoman of Kent Police Authority, said: "If the chief constable grants these powers then their role can only be further enhanced.
"They will still be out on our streets and able to do more, offering a value for money service to police council taxpayers."
Last month Kent Police set out plans to lose the equivalent of 1,000 staff and 500 officers to tackle a 20% budget reduction.
The force presented a new policing model under which neighbourhood policing would rise by 50% from 800 officers and staff to 1,200.
The Kent Police Federation criticised the plans and said the cuts would bring a reduction in service, a reduction in police officers and a rise in crime.