Kenneth Noye appeals against M25 murder conviction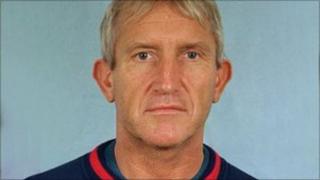 One of the UK's most notorious criminals is appealing against his conviction for a 1996 road rage murder.
Kenneth Noye, 63, stabbed Stephen Cameron, 21, during a fight on an M25 slip road at Swanley, in Kent.
He fled to Spain afterwards but was extradited in 1998 and was jailed for life at the Old Bailey in 2000.
His case is being looked at again following a decision by the Criminal Cases Review Commission (CCRC) to refer it to the Court of Appeal.
'Discredited' witnesses
Clare Montgomery QC told the Lord Chief Justice Lord Judge and two other judges that key prosecution witnesses at the trial were now "so discredited" that Noye's conviction should be quashed.
She said the court must regard pathologist Michael Heath and eyewitness Alan Decabral as being "so discredited or potentially discredited that the court would have to ignore their evidence".
Ms Montgomery said fresh evidence had demonstrated their unreliability, and the conviction was "unsafe".
She said Dr Heath had failed to carry out proper post-mortem examinations and to document his findings.
Ms Montgomery also criticised other alleged failings in Dr Heath's evidence at the trial.
One area of complaint was that evidence given "about the necessary force needed to inflict the two wounds was unsustainable scientifically and forensically".
Opposing the appeal, Mark Ellison QC said the issue was not Dr Heath's evidence, but whether the use of the knife at all was "proportionate".
Drug dealer
During the trial, Noye had denied murder on the grounds of self-defence.
Ms Montgomery also told judges that non-disclosure of material relating to Mr Decabral "can now be seen to have affected the safety of the conviction".
At the trial, Mr Decabral told jurors he saw Noye hide a knife behind his back before lunging and stabbing Mr Cameron in the chest.
The QC said information from Mr Decabral's widow, that he had been a drug dealer who owed substantial amounts of money, led to Noye's first appeal in 2001.
Ms Montgomery told the judges: "It also emerged that there was material in the hands of the prosecution at the time of the trial which had not been disclosed to the defence, which further undermined his credibility."
Noye previously applied to the CCRC in 2003 for a review of his case, but in October 2006 it decided not to refer the conviction.
In a statement last October, it said it had carried out a thorough review of the case, that included "consideration of the pathology evidence at trial and new expert evidence acquired since the original decision in October 2006" and had decided to refer the conviction to the Court of Appeal.
The CCRC said the decision had been reached "on the grounds that there is a real possibility that the court may quash the conviction as unsafe".
The appeal judges reserved their decision. No date was given for the ruling.