Broadstairs protesters threaten action over park plans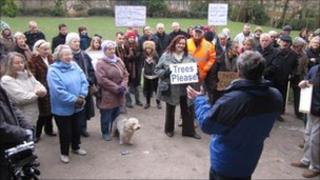 Residents against a community centre in a Kent park have threatened "emergency action" to stop it from going ahead.
Organisers opposing the development in Pierremont Park in Broadstairs said the action could include occupying the site and people tying themselves to trees.
About 200 people took part in a protest on Sunday to "demonstrate the strength of feeling" against the plans.
Broadstairs and Saint Peter's Community Centre Trust said the centre would replace a 90-year-old dilapidated hut.
Consent for the £1.4m development has been given by Thanet District Council.
Campaigner Norman Thomas said opponents of the scheme particularly feared the loss of trees.
"People don't want this new development. They believe it will damage a much-loved park.
"Thanet Council's planning officer has stated 20 trees will be cut down, but the speakers at the demonstration felt that not one tree should go," he said.
'Crisis situation'
Mr Thomas is part of the local residents organisation, the Thanet Action Group, which organised the protest and has called a meeting for 18 March in the Park Hut in the park to discuss what to do next.
"This is a crisis situation," he said.
"Planning consent has been obtained to proceed with the building, so the builders could start work at any time.
"People who don't want this to happen may have no choice but to take emergency action."
Broadstairs and Saint Peter's Community Centre Trust chairman Ian Dale said the hut, which houses a nursery school as well as other local groups, was one of two community facilities in the town which were heavily used and beyond repair.
"The organisations that use them have to go somewhere and we are trying very hard to replace them," he said.