Royal couple visit NI in run-up to April wedding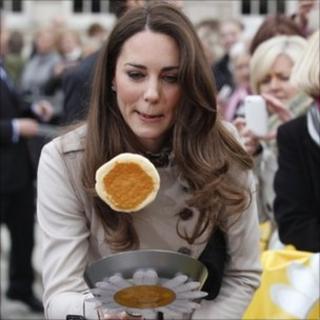 Smiling royal bride-to-be Kate Middleton tossed a pancake in the centre of Belfast on Tuesday.
She flipped it up in the air outside City Hall as several people cheered and wished her well for her wedding day next month.
Miss Middleton, 29, was handed a frying pan by Prince William and told to "have a go" in front of children fundraising on Shrove Tuesday.
It is the couple's first visit to Northern Ireland.
There was a heavy security presence but, with Prince William close by, Miss Middleton joined children tossing pancakes and stopped for a chat with women in the grounds of City Hall.
Armed police officers patrolled the streets and kept watch from nearby rooftops, but the opening engagement of the couple's one-day visit passed without incident.
Security considerations meant there was no pre-visit announcement by Buckingham Palace and the Northern Ireland Office.
Miss Middleton clearly revelled in the attention of the crowd outside City Hall gates who strained to catch a glimpse - as well as the 100 people who were allowed inside to line up on the edge of the lawns in the hope of shaking the couple's hands.
She wore a double-breasted belted coat with a frill at the hem, black opaque tights and high-heeled shoes.
She met representatives from the Northern Ireland Cancer Fund who were hosting the Shrove Tuesday fundraising event, and then turned her attention to the waiting crowd.
Housewife Heather Lindsay from Killyleagh, County Down, whose daughter Laura Ann is also getting married this year, brought "bride" and "groom" caps, hoping to get Prince William to wear one.
"He politely declined," she said.
"I told Kate I am also planning for a big wedding as well. I told her not to lose any more weight. She laughed and said it was all part of the wedding planning."
Police kept the traffic flowing in front of City Hall, but they also maintained a tight security cordon with security force personnel, using binoculars, keeping watch from the top of the building.
By the time the couple left for their next engagement after meeting Lord Mayor Pat Convery, Dame Mary Peters, the Lord Lieutenant of Belfast and Northern Ireland Secretary Owen Paterson, the crowd had swelled to several hundred.
They went on to visit the headquarters of Youth Action NI - an organisation that offers volunteering opportunities, performing arts, apprenticeships, mentoring, accredited training and leadership opportunities to young people living in disadvantaged areas.
There, they watched a performance by Youth Action's Rainbow Factory School of Performing Arts and met the young actors.
They also presented certificates to young apprentices.
At lunch-time, the couple moved on to an engagement at Hillsborough Castle.