Royal wedding salute to be fired at Chatham fort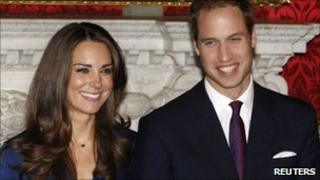 An historic fort in Kent is to fire a 21-gun salute as part of the royal wedding celebrations for Prince William and Kate Middleton.
Fort Amherst, in Chatham, said it had been given permission by Buckingham Palace to fire the tribute at midday after the Westminster Abbey service.
The Fort Amherst Heritage Trust said it believed it was the only 21-gun salute being fired on 29 April.
The Napoleonic Fort's saluting battery is called Prince William's Battery.
The guns have not fired a salute for more than 100 years. Repairs to the brickwork are to be carried out beforehand by the Royal Engineers, who originally built the fort.
Project co-ordinator Glenn Robinson said it was one of the most exciting projects the trust had ever undertaken.
"The chance to fire a full royal salute of 21 guns is a very rare honour for a non-military organisation," he said.
The salute will be fired using five black powder cannon on gun carriages by re-enactors from the Napoleonic Association.
Fort Amherst forms part of the site put forward for World Heritage status by Medway Council.
Other attractions included in the bid are Chatham Historic Dockyard, Upnor Castle, Brompton village and barracks, the Pembroke site's former naval barracks which are now part of Medway's university campus, and the Great Lines.