Broadstairs protesters angry over park community centre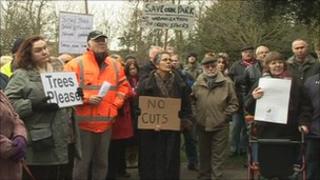 Residents angry at plans to build a controversial £1.4m community centre in a Kent seaside park have held a demonstration against the scheme.
Thanet Action Group said people in Broadstairs were furious they would lose green space and that trees would be felled in Pierremont Park.
Thanet District Council has given consent for the community centre.
Broadstairs and Saint Peter's Community Centre Trust said it would replace a 90-year-old hut that was falling apart.
Trust chairman Ian Dale said the hut, which houses a nursery school as well as other local groups, was one of two community facilities in the town which were heavily used.
"The other building, in Albion Street car park, has been passed as beyond economical repair," he said.
"The organisations that use them have to go somewhere and we are trying very hard to replace them."
About 80 protesters gathered at Pierremont Park on Sunday morning.
Campaigner Norman Thomas said they were particularly concerned at the loss of trees.
He claimed up to 20 trees would be cut down, though the trust said the number was 12.
"We have got very, very few green spaces in Thanet as a whole," said Mr Thomas.
"Broadstairs is sorely lacking in green public spaces.
"Pierremont Park is a beautiful place and a very small place, which is why 20 trees is going to have a huge impact."