Group calls for lorry park on reclaimed Dover island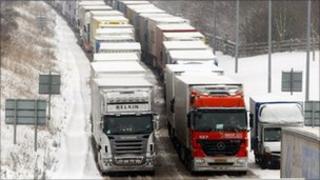 Campaigners have called for a planned lorry park to be built on reclaimed land off the Kent coast instead of fields next to the M20.
Kent County Council wants to create space for thousands of lorries on a 70-acre site near Aldington.
The aim of the park would be to stop trucks having to queue on the motorway during cross-Channel delays.
The Campaign for the Protection of Rural England said the site should be built on reclaimed land near Dover.
'Unhampered by delays'
A spokesman for the CPRE said: "Our solution for the disruption caused by Operation Stack would be to reconsider the contribution of the Port of Dover itself to the growing amount of freight traffic on Kent's roads, and its responsibility for the congestion that is caused periodically.
"A planning application to construct extended port facilities at Dover is already under consideration.
"We consider that it would take very little extra construction work to reclaim an area of land in the channel - following the precedent set by Samphire Hoe - to create sufficient parking for 5,000 to 6,000 HGVs, freeing the M20 from the burden of Operation Stack and allowing the rest of Kent to go about its business unhampered by delays at the channel crossings."
Under Operation Stack, vehicles currently park on the motorway when cross-Channel transport is blocked.
The council wants to build a multi-million pound lorry park to end the disruption the scheme causes.
In January, Kent County Council said it would push ahead with the project despite a government decision not to pay for it.