Minister David Willetts visits threatened Pfizer site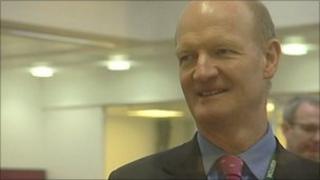 Science Minister David Willetts has refused to give any guarantees about the future of the Pfizer plant in Kent, where 2,400 jobs are set to be lost.
Mr Willetts is leading the government's response to the closure of the research facility, announced by the US-based drugs company last Tuesday.
He said it would "try to ensure a really valuable and prosperous future for all the activities on this site".
But Mr Willetts said it would be irresponsible to give guarantees.
He also said the government was "absolutely committed" to working with Pfizer.
The University of Kent is exploring options to use part of Pfizer's purpose-built facilities, including bidding for government funding to develop a technology and innovation centre.
About one third of Pfizer's staff live in Thanet and many live in the Canterbury area.
Senior Vice President Ruth McKernan said it was impossible to say how many of the 2,400 people at Sandwich would be redeployed.
She refused to reveal even whether the figure might be in the tens or the hundreds.
"Our staff are absolutely valuable and we have some of the best scientists in the world," she said.
"It is early days yet (but) there are certainly some colleagues could move to another site."
She said the Sandwich site was no longer viable.
"We are looking to streamline and outsource some of our work and we are looking to focus on scientific areas that are the most valuable for the company," she said
"Unfortunately, once all that is taken into account having a very large site here with a focus of work that is not of the highest value to the company is just no longer viable."
MPs and council leaders held crisis talks at Westminster on Wednesday afternoon to discuss how to bring investment and jobs to Sandwich after the operation ends.