Campaigners seek to reopen Margate Caves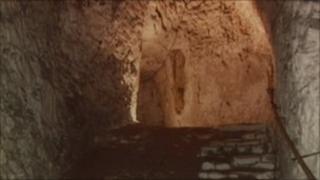 More than 2,500 people have signed a petition to reopen caves in Kent which date back more than 1,000 years.
Margate Caves, which were rediscovered in 1798, closed to the public seven years ago amid safety concerns.
Councillor Simon Moores, of Thanet District Council, said it would cost about £100,000 to restore the caves, which the authority did not have.
Campaigners are worried the site could be redeveloped and have said the caves could be reopened with minor repairs.
Brenda Sotos, campaigner and former teacher, said: "For many years I brought my classes down here and the children loved it.
"They loved to think of pirates and smugglers and giants and Vikings, and it gives children a sense of their own inheritance and their history."
Mr Moores said the council was working hard to try to encourage someone to come forward with a business plan to repair and run the caves.
He said essential work was currently being undertaken at the site to address a number of serious safety concerns, but it would not be enough to allow public access.
"Whilst of course it would be desirable to reopen the Margate Caves, to carry out the full range of work required to allow public access to the caves would cost the council in the region of at least £100,000, which in the current climate is simply not a viable option.
"We recognise that this is a really important time for Margate with the exciting opening of Turner Contemporary just around the corner so we are working hard with local businesses and residents to prepare the town and get it ready for an increase in visitors.
"However the unfortunate scenario is that until Thanet's economy can support the funds required to carry out this essential work, the council is simply not in a position to reopen the caves at this time."