University of Kent to consider Pfizer proposal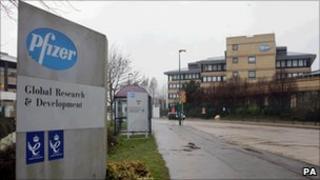 The University of Kent is exploring options to use part of Pfizer's purpose-built facilities in Sandwich.
The US-based drugs company announced on Tuesday that it was closing the site, which employs 2,400 people.
Deputy vice chancellor Denise Everitt said the university was looking at "realistic options" to help mitigate the closure of the site.
She said the closure could have a "potentially devastating impact" on the economy in east Kent.
One option is to bid for government funding to develop a technology and innovation centre on the site, she said.
The government has announced a £200m initiative to set up a network of six to eight innovation centres, bringing together business and academia.
Ms Everitt said the innovation centre could specialise in bio-processing, reflecting the university's strengths.
'Strong future'
She said: "We are currently considering what we might be able to do that will directly help to save the science base that has been created at Sandwich and are working up a range of options."
Julian Brazier, the Conservative MP for Canterbury, said: "The university are very much on the front foot on this and are working up a whole string of possible proposals.
"If we could get one or two really good ideas off the ground relatively quickly that can give hope, then we can stop this gaining a critical mass and becoming a black hole."
The chief executive of GlaxoSmithKline, Andrew Witty, said the firm had no plans to buy Pfizer's site in Kent but was interested in looking at taking on some of their highly skilled staff.
Kent MPs met with senior managers from Pfizer earlier.
Laura Sandys, the Conservative MP for Thanet South, said: "I think the last 24 hours have shown there is huge political support and determination to ensure the site has a strong future."
'Preserve jobs'
In a statement, Pfizer said: "We can confirm that a meeting took place with Laura Sandys MP and Roger Gale MP at Sandwich, Kent today."
"We welcome this dialogue and we are committed to working with local MPs, key stakeholders and the taskforce that has been established by the Department of Business, Innovation and Skills to evaluate options to mitigate the impact of this decision, and explore external partnership opportunities in an effort to preserve jobs and activity on the site."
The Sandwich site currently conducts research and development on allergy and respiratory drugs.
It lays claim to some of the world's biggest medical discoveries, including the anti-impotence drug Viagra.
MPs and council leaders held crisis talks at Westminster on Wednesday afternoon to discuss how to bring investment and jobs to Sandwich after the operation ends.