Arsonist sought after five fires in the Maidstone area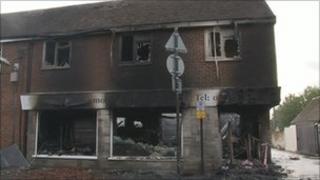 A serial arsonist who has attacked Kent businesses and spray painted them with numbers is being sought by police.
Five companies in the Maidstone area, within an eight-mile radius of each other, have been set alight. No-one has been injured in the attacks.
The first was on 28 October, when a fire caused damage to a shop and the offices of MP Hugh Robertson in Lenham.
The most recent was on Sunday, when a garage in Headcorn was targeted, and the number five daubed on the building.
The three other arson attacks were at a garage in Boughton Monchelsea on 29 December, Warmlake on 28 January, when a bathroom and kitchen showroom was targeted, and on 29 January at a garage in Ulcombe.
Each of the buildings had been daubed with a yellow painted number in a circle to signify the order of the attacks.
'No motive'
Police said in the most recent attack in Headcorn, the number five did not appear on the wall of the building until 24 hours after the fire had broken out.
Kent Police said there was no apparent motive for the attacks, but it had received an e-mail from a person admitting responsibility.
It is also understood that another e-mail has been sent to a media organisation saying they will be targeted if they do not continue their coverage of the attacks.
Supt Andrew Rabey, of Kent Police, has urged members of the public to be vigilant, particularly shift workers who may see someone acting suspiciously in the early hours.