PM vows to 'make the best' of Pfizer plant site closure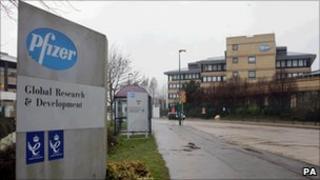 The prime minister said the government was "doing everything it can" to make the best of drug maker Pfizer's decision to close its Kent site.
David Cameron described the research and development facility at Sandwich as "state of the art" and the announcement that it was being shut as "bad news".
He said Science Minister David Willetts was leading the government's response.
Pfizer announced on Tuesday that it was closing the site, which employs 2,400 people, over the next two years.
Crisis talks
The drug firm said several hundred jobs would be transferred to other UK sites or partner organisations.
MPs and council leaders held crisis talks at Westminster on Wednesday afternoon to discuss how to bring investment and jobs to Sandwich after the operation ends.
During Prime Minister's Questions Mr Cameron said: "It is depressing news, it is bad news - Pfizer's decision. My office has been in contact with them, I spoke to them again this morning.
"The company is keeping all the options open in terms of what should happen to the site, including getting partner organisations to continue to work there and to get other companies to come in."
He added: "The government will do everything it can, co-ordinated by David Willetts and head of the office of life sciences, to try and make sure we make the best of what, yes, is a depressing piece of news."
'Leave a legacy'
His comments came after the Conservative MP for South Thanet, Laura Sandys, asked for assurances that the government would do everything it could to secure the site and high-skilled jobs in the area.
Business Secretary Vince Cable said he was setting up a local taskforce to mitigate the impact of the decision.
Kent County Council leader Paul Carter, who will lead the taskforce, said it had been intimated that Pfizer wanted to leave a legacy in Sandwich and was prepared to be "fairly generous" with the real estate and property assets that would be left.
He said: "We've got to establish with Pfizer hopefully that buildings will remain as a legacy for research and development and technology and innovation.
"Then we need to look more broadly about the opportunities of getting research and development in all its forms into those facilities when the last man or woman leaves those buildings in the next 18 months."
Linda McCulloch, from the Unite union said the announcement had come as a "total shock", and workers had "no idea the news was coming".
Pfizer staff have been told not to talk to the press, but one worker who gave his name as Dave, said: "The general opinion among staff is that it was a safe place to be.
"There are always constant changes at Pfizer, but we felt safe and we didn't expect the whole site to be shut down."
At its peak, about 5,000 staff worked at the base in Sandwich, but numbers halved after manufacturing ended at the site in 2007.
About a third of the staff live in Thanet and many more live in the Canterbury area.
The Sandwich site currently conducts research and development on allergy and respiratory drugs.
It lays claim to some of the world's biggest medical discoveries, including the anti-impotence drug Viagra.
Pfizer has its UK business headquarters in Walton Oaks, Surrey, and other operations in Maidenhead, Aberdeen and Cambridge.