Kent grammar and faith school pupils facing bus fee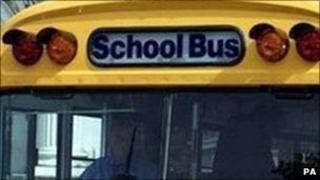 Parents who send their children to Kent grammar or faith schools could have to pay to use council-run transport.
Kent County Council (KCC) is considering introducing a contributory fee to help towards the cost of transport from September 2012.
The council said the charge would be waived for children who were from low income families and eligible for free school meals.
Parents will be able to comment on the plans in the near future, KCC added.
The council said it had a legal duty to provide free transport for some pupils.
But it provided assisted transport to denominational or selective schools at its discretion and was not legally obliged to do so.
A statement issued by the council said: "KCC is keen to make sure that parents are able to choose their preferred school. However, the massive financial constraints faced by the public sector cannot be ignored."
Under the plans, parents who choose to name a school on denominational or selective grounds would be required to make a contribution towards the cost of transport if their child was eligible to receive transport assistance.