Canterbury Cathedral unveils Gormley sculpture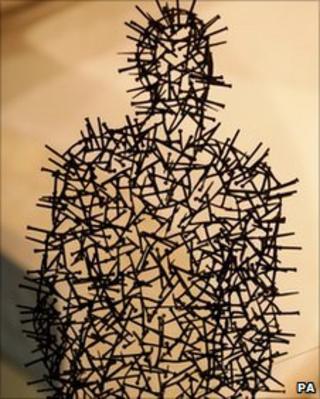 Old iron nails taken from the repaired roof of Canterbury Cathedral have been used by sculptor Antony Gormley to create a new artwork.
The piece, called Transport, is suspended above the site of the first tomb of Archbishop Thomas Becket, murdered at the Kent cathedral in 1170.
The 6ft (2m) work, made from nails from the south-east transept roof, outlines the shape of a floating body.
Gormley is famous for sculptures such as the Angel of the North.
The winner of the Turner Price in 1994, he also created Another Place on Crosby beach.
Speaking about Transport, unveiled on Sunday, he said: "We are all the temporary inhabitants of a body. It is our house, instrument and medium.
"Through it, all impressions of the world come and from it all our acts, thoughts and feelings are communicated.
"I hope to have evoked this in the most direct way possible."
The Very Rev Robert Willis, Dean of Canterbury, said it was thrilling for the cathedral that the sculptor had created the work.
"The sense of passage which the word Transport conveys tunes well with the constant movement of people through this place of prayer and creativity," he said.
"It also suggests the way in which sacred spaces communicate a sense of time and eternity, of the finite and the infinite.
"We are hugely grateful for this work."
The 900-year-old cathedral is undergoing a multi-million pound conservation programme designed to save it for future generations.
A £50m appeal launched four years ago had raised £11.5m by December 2010.