Lloyd Webber opens music school in Dover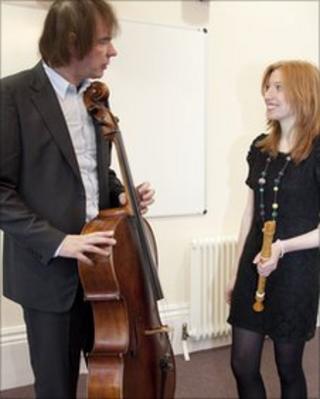 One of the world's leading cellists, Julian Lloyd Webber, has opened a new music school at a Kent college.
The Tallis Music School, in the grounds of Dover College, is named after one of the most important composers of the Tudor period, Thomas Tallis.
Tallis, who was born in Kent around 1505, was organist at Dover Priory, which later became part of the college.
"We're thrilled that Julian agreed to come and open the new Tallis Music School," said headmaster Stephen Jones.
"It is a huge privilege."
Mr Jones said the college, an independent boarding and day school which counts Simon Cowell among former students, planned to increase the number of pupils taking music lessons and its music scholarships.
"We have got a number of important buildings in Dover and we try where possible to get people in to come and share them with us," he said.
Mr Lloyd Webber said Saturday's opening was "brilliant".
"Music can play a huge part in children's lives," he said.
"I have been very involved with a project that is going to the most deprived areas of England called In Harmony.
"I have seen just in two years the effect it has had, even on the school work.
"In one school numeracy improved by an amazing figure.
"That really was just the power of music at work."