Pembury Hospital opens its doors to patients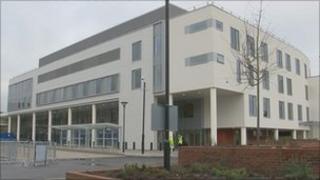 A new £225m hospital for west Kent with single rooms and en-suite facilities has begun treating its first patients.
The 512-bed Pembury Hospital, near Tunbridge Wells, has 10 wards and was built alongside the old hospital, which will be demolished this year.
Maternity services and departments such as pharmacy and medical imaging are transferring over to the new site.
Women's and children's outpatients will move over later this week, along with general outpatients.
The second phase of the move will take place in September when the Kent and Sussex Hospital in Tunbridge Wells closes.
'Live longer'
All the rooms have patient-controlled temperature systems, solar control glass windows, and flat screen TVs, while most also have views of the Kent countryside.
The Conservative MP for Tunbridge Wells, Greg Clark, said the opening of the hospital to patients was "fantastic news".
"I went round it myself... it's the best hospital in the country," he said.
"All of the horrendous problems we've had about infection control... this is a hospital designed to prevent those kind of outbreaks.
"People will be able to live longer, free from the threat of infection as a result of this."
Maidstone and Tunbridge Wells NHS Trust said the hospital was based on an innovative design to aid patient recovery and safety.
"A single room for every patient will afford much greater privacy and dignity and will cut the risk of infections spreading," it said.