Kent school uses buckets to catch leaks from roofs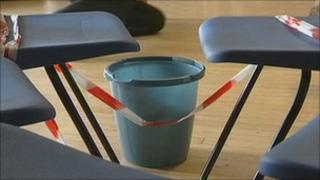 A school in Kent, which could face repairs of more than £1.5m, is using buckets to collect water from leaking roofs.
Brockhill Park Performing Arts College, in Hythe, was to be refurbished this year - but the scheme was lost to government spending cuts.
Head teacher Sonette Schwartz said the conditions meant her pupils were being "treated with contempt".
Kent County Council said the school should sort out the repairs.
Ms Schwartz said pupils were often taught in classrooms where the floor was partly cordoned off to allow space for the buckets.
'Smacks of contempt'
She said work to the roofs of three buildings which leaked would cost £75,000 to mend and that other repairs to the school total £1.5m
"I just don't think it's appropriate that in the 21st Century, in England, we have classrooms where teachers have to move buckets around. I just think it smacks of contempt really," she said.
"We understand that the Building Schools for the Future [programme] was scrapped and that money is tight, [but] that doesn't stop the roof leaking.
"It's going to get worse unless something is done quite urgently."
Sarah Hohler, who is in charge of schools at Kent County Council, said schools were responsible for their own repairs if the bill came to less than £20,000.
"Brockhill had a full condition survey on 1 September 2010, and most of the items are £20,000 or under, which are down to the school to fund."
Ms Hohler's comments came as Kent and five other councils began a legal challenge to the government's decision to axe England's secondary school rebuilding programme.