Robber threatens Kent post office staff with machete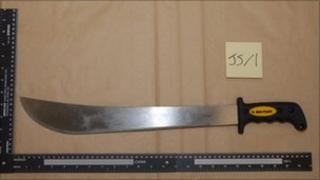 A masked robber stole a cash box from a Kent post office after threatening staff with a machete.
Police said the teenager, who had a striped scarf wrapped round his face, raided the shop in Black Bull Road, Folkestone, on Friday.
He threatened staff with the machete and demanded money before fleeing the post office towards a sports centre in Radnor Park.
No-one was injured in the attack, Kent Police said.
The suspect was described as being white, in his late teens, about 5ft 11in tall, of slim build and with dark brown hair.
The force has appealed for anyone with information to contact officers.
A police spokesman said: "Officers are keen to speak with anyone who may have recently sold a machete knife to any male matching the offender's description, as the weapon appears to be new.
"The machete is described as 2ft long and unscratched with a black plastic handle."