Spirit of Britain ferry makes maiden France voyage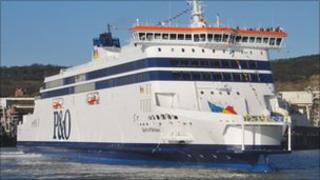 A new cross-Channel ferry, said to be the largest ever to operate between Calais and Dover, is making its maiden voyage to the French town.
The Spirit of Britain, which cost about £150m, set sail from the Port of Dover in Kent at 0920 GMT.
The P&O Ferries vessel is almost twice the size of the Pride of Dover, which it has replaced.
It will be officially named by double Olympic gold medallist Dame Kelly Holmes next month.
The Spirit of Britain is the first of a pair of new ships coming into service for the Dover to Calais route.
Its sister ship, the Spirit of France, is due for delivery in September.
P&O described the ferry as a "leviathan of the seas" and said it represented "a new era" in cross-Channel travel.
The ferry, which weighs 49,000 tonnes and is 700ft (213m) long, will make five journeys from Dover to Calais every 24 hours.