Probe into meningitis baby's care at Kent hospital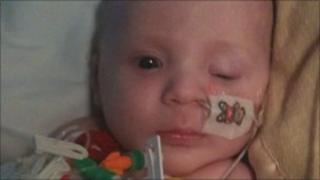 A hospital has started an investigation into the care a baby who was diagnosed with E.coli meningitis received.
Michelle Hayman and Jarno Keen, of Canterbury, Kent, took six-week-old George to the William Harvey Hospital on 2 January after he turned pale.
The doctor that examined him said he had feeding issues and sent him home.
Less then 24 hours later his parents took him back to hospital and he was diagnosed with meningitis. They fear the delay may have caused brain damage.
They also said they were particularly concerned because he previously suffered from meningitis shortly after his birth in November.
George, who cannot now open one eye, is being treated at a hospital in central London.
Ms Hayman said: "It was the next worse news than being told you'd lost your child and your child has died.
"I've never felt so upset in my life, I was absolutely hysterical. I just didn't know what to do with myself, I was being sick because I was so worried."
She added: "I just want my normal little baby back."
In a statement, the hospital said: "We are extremely sorry that baby George contracted meningitis.
"When he was first brought to the William Harvey Hospital on January 2nd with feeding concerns he was observed for a period of time and the doctor examined him specifically for signs of meningitis among other things but found none.
"However every patient is very important to us and because George deteriorated so quickly after being discharged on January 2nd we are carrying out a full investigation into his care."
Harriet Penning, of the Meningitis Trust, said: "It is vitally important to diagnose meningitis quickly because not doing so can result in death or serious after effects."