Injured Kent pupils settle compensation claims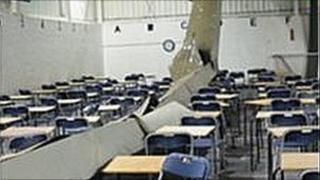 Teenagers injured when part of a heating system collapsed during their exams at a Kent school have settled their claims for compensation.
The solicitor representing children hurt at the then Minster College on the Isle of Sheppey in May 2009 says Kent County Council has agreed seven claims.
Cases involving two of the more seriously hurt pupils are still outstanding, she said.
A total of 12 pupils suffered injuries when a metal duct fell on them.
Sarah Harman said the seven families were satisfied with the settlements and the other two cases were still being pursued.
Metal plates
She said: "For some of them there has been trauma caused that has been ongoing. They all had to have assessment by professional experts [before compensation could be considered]."
She would not reveal the size of the payouts, but said the children would not receive the money until they were 18.
Kent County Council admitted liability following the incident, in the sports hall, where about 150 children aged from 13 to 16 were sitting SAT examinations.
The pupils suffered a range of injuries, including neck, head and back wounds. One boy, Rhys Sullivan, had metal plates inserted in his jaw, which was broken in two places.
The Health and Safety Executive began an immediate probe. Its initial report said steel wires attaching the ducting to the hall roof had failed.
The case was referred to the Health & Safety Laboratory for further investigation, which has not yet been completed.
Pupils spoke of hearing cracking and creaking noises when the heating was turned on before the ducting started to come away from the ceiling.
Most of it fell between desks, but 12 children were hurt.
Minster College is now part of the Isle of Sheppey Academy.