Cameras find more than 320 illegal vehicles in Kent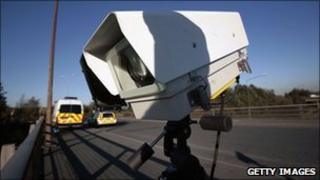 Specialist cameras were used to remove more than 320 illegal vehicles from Kent roads last year, police have said.
Automatic Number Plate Recognition (ANPR) cameras were used to seize vehicles driven without insurance, a licence or an MOT, or used in crime.
Kent Police said that over the past two months, the force had "significantly increased" its ANPR capabilities.
Officers said people who drove vehicles illegally or used them to commit crime would have no place to hide.
Catalytic converters
During 2010, the ANPR team helped to confiscate £1,372,738 worth of criminal assets discovered during roadside vehicle checks, ANPR manager Martin Lyddon said.
He said one man who was stopped at Bluewater shopping centre in Dartford for a minor traffic offence was found to have £80,000 in his car.
Following investigations, he was ordered to pay back more than £700,000 in a confiscation hearing, Mr Lyddon added.
He said another ANPR operation in October led to the discovery and seizure of five suspected stolen catalytic converters, worth about £2,000 each.
In that incident, the vehicle was seized and the driver was later charged with theft.