Maidstone Rugby Club fined over eye gouging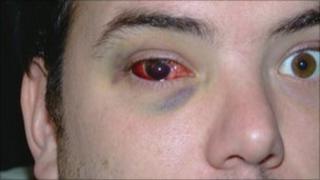 A Kent rugby club has been fined £2,000 and deducted 50 points following a deliberate attack which left an opposing player blind in one eye.
Clarence Harding's right eye was gouged during a game between his side, Gravesend Rugby Club, and Maidstone RFC at Mote Park a year ago.
A Rugby Football Union hearing found Maidstone guilty of conduct prejudicial to the interests of the game.
The club has the right to appeal against the decision.
Giving his reaction to the penalty, Mr Harding said: "The one thing that I was really disappointed in, and am still disappointed in, is the measly £2,000 they got fined.
"I have golf clubs that cost more than that.
"I had to give up rugby, I had to redevelop everything I do on a day-to-day basis, it is life-changing.
"For them to build up their reputation again, yes it is going to take a long time, and that is fine, they will get their reputation back, but I will never get my sight back."
Maidstone RFC has declined to comment.
In November, the Rugby Football Union (RFU) said it could not be determined which player was responsible for causing the injury in the match on 17 January 2010.
Judge Jeff Blackett, chief disciplinary officer, cleared Maidstone player Matt Iles of eye gouging at a previous hearing, but he also determined Mr Harding had been injured in a deliberate act.
The club is currently sixth in London 2 South East with 28 points, but the penalty handed down by the RFU will almost certainly mean relegation at the end of the season.