Body of stolen meerkat found in bin in Sandwich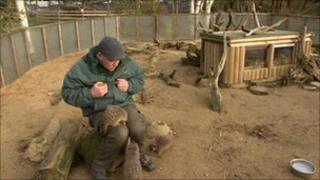 The body of a meerkat stolen from a Kent wildlife park has been found in a bin after the animal was hit by a car.
Keepers from Wingham Wildlife Park near Canterbury found the body in a dog waste bin in Sandwich after receiving a call from a member of the public.
The caller said he saw the meerkat being run over by a car in St Bart's Road on Sunday and dumped in the bin.
"It was the last place we would have hoped to retrieve this animal from," said a park spokesman.
The park was alerted on Wednesday after the caller saw media coverage of the theft.
The male meerkat went missing from its enclosure on 29 December. The park ruled out the possibility the microchipped animal could have escaped.
'Very disturbing'
It said it was possible the thief reached into the enclosure and put the animal in a bag.
It is feared thieves stole it because of a surge in the animals' popularity following a TV advertising campaign in which an animated meerkat with a Russian accent - whose catchphrase is "Simples" - advertises insurance.
The body found in the bin was scanned and the microchip confirmed it came from Wingham.
"The whole situation has been very disturbing for everyone at the park, and most of us still can't believe that someone would steal one of our animals," said the spokesman.
"All of the animals are important to all of our animal care staff.
"But we could at least put our minds at rest by confirming that the animal found was ours, as opposed to having to wonder whether he is still out there."
The park is appealing for anyone who has information about the theft to get in touch or to speak to Kent Police.