Folkestone's Little Mermaid statue model is unveiled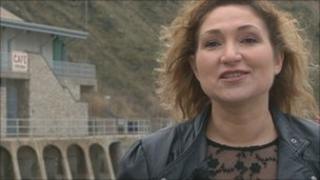 A 38-year-old mother-of-two is to be immortalised in bronze in the pose of Copenhagen's Little Mermaid as part of a Kent art festival.
Georgina Baker, of Sandgate, was chosen from 50 applicants to model for the £25,000 nude statue which will be installed in Folkestone harbour.
The work, by Cornelia Parker, is one of several commissions for the Folkestone Triennial 2011 in the summer.
Ms Baker said she was delighted to have been chosen.
'Very statuesque'
She added: "My daughter, the thought of it, she is so excited that her mum's going to be immortalised in bronze, to have her as a mermaid.
"I think it's lovely thought that [my children] can always come down and look at me. I'll age but that can never age and they can come down and maybe show their children."
When Copenhagen's Little Mermaid was created in 1913, Danish sculptor Edvard Eriksen's wife modelled for the statue, which celebrates the fictional heroine of Hans Christian Andersen's fairy tale.
In September all women in Folkestone were invited to send a picture of themselves to model for the Folkestone version of the statue.
Curator Andrea Schlieker said: "We selected Georgina from all of the entrants because she for us represented the perfect form that Cornelia was looking for.
"She's 38 she has two children and yet she is very statuesque. She carries herself perfectly."
It will be the second time the festival has been held in the town. Shepway council said the first Triennial helped to put Folkestone on the map.
The statue has been funded by a number of public and private bodies, including the Arts Council England, and donations.