Body of soldier based in Canterbury returned to UK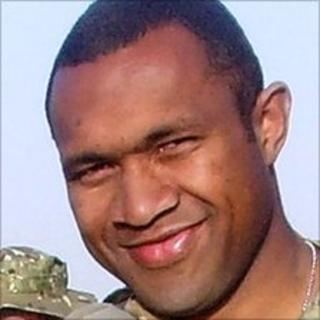 The body of the first member of the British armed forces to be killed in Afghanistan in 2011 has been repatriated to the UK.
Private Joseva Saqanagonedau Vatubua, 24, died on 1 January in an explosion in Helmand's Nahr-e Saraj district.
His friends said it was like "losing a brother" as they joined his family in Wootton Bassett, Wiltshire.
Pte Vatubua was serving with the Argyll and Sutherland Highlanders 5th Battalion, based in Canterbury, Kent.
The body of Pte Vatubua, who was originally from Fiji, was flown to RAF Lyneham in Wiltshire where a private service was held for his family.
As the cortege passed through nearby Wootton Bassett a bell tolled as his widow, Claudette, placed a single rose on top of the hearse.
Local people and members of the Royal British Legion also paid their respects.
Lance Corporal Niko Bolatagane, of The 3rd Battalion The Yorkshire Regiment, said: "He was a very good soldier, very good at his job.
"Everyone felt it [when he died], everyone knows each other, it's like a brother, it's like losing a brother.
"This was the first death this year, it's so sad."
Pte Vatubua had intended to renew his marriage vows and his widow wept silently as she watched the hearse pull away.
In a statement released after his death, Pte Vatubua's family said: "We can't put into words how proud we are of Joseva.
"He loved his job and he loved being in the family of The Royal Regiment of Scotland."
Pte Vatubua was deployed to Afghanistan in October last year and was part of an operation targeting known enemy firing positions north of the village of Saidabad Kalayk when he was killed.
Pte Vatubua, who attended Laucala Bay Secondary School in Fiji, joined the British Army in 2007 and was deployed to Afghanistan in October last year.
He was a member of the Battalion's Fijian Choir and sang in Canterbury Cathedral, where a memorial service will be held later this week.
He was also a keen rugby player and belonged to Canterbury Rugby Club.