Gravesham council homes will go to local people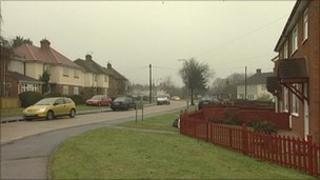 A local authority in Kent has changed its housing policy to make it harder for people from outside the borough to get council housing.
Gravesham Borough Council approved the change to stop people with no local connection from getting on the housing waiting list automatically.
The aim is to avoid more applicants from expensive areas moving in because of government housing benefit changes.
The Tory council said it would treat anyone in serious need "with kindness".
Changes to housing benefit, which will see maximum weekly rates capped at £400 a week, were announced by Chancellor George Osborne last June.
Government guidelines
The cap has prompted fears that tenants will be forced out of expensive areas of London to nearby boroughs such as Gravesham.
In future, any household wanting to move to Gravesham without a local connection would have to face a special panel to rule on their eligibility.
"We have been given advice on this there is no law to say we can't restrict (housing eligibility) said Councillor Anthony Pritchard.
"In fact, new government guidelines do exactly the opposite.
"They allow boroughs all over the country to look carefully at what they do and how they manage their stock.
"We are not closing the door - if anybody has got serious need or is in serious disadvantage then we would treat them with as much kindness as we can."
Gravesham has about 3,180 households on its waiting list, with an average nine month wait for a three-bedroom flat and two years for a four-bedroom house.