Fears for Kent Wildlife park's missing meerkat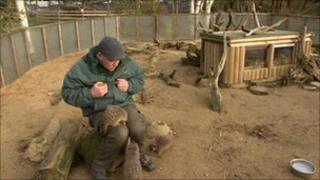 Owners of a Kent wildlife park fear thieves have stolen a meerkat because of a surge in their popularity following a TV advertising campaign.
The animal went missing from its enclosure at Wingham Wildlife Park near Canterbury on 29 December.
The park has ruled out the possibility the male meerkat, which had been microchipped, could have escaped.
An animated meerkat with a Russian accent - whose catchphrase is "Simples" - is being used to advertise insurance.
'Can't dress them'
Wingham owner Anthony Binskin said: "They've either taken it to resell it because of the value of them or they've taken it because they see them on the TV and they think they're going to make good pets."
The park said the social nature of the animals meant it was very unlikely a single meerkat would attempt to escape.
A spokesman added: "Our animal care staff searched the enclosure and surroundings for any clues which may have suggested where he had gone, but were unable to find anything.
"If an animal finds a way to escape the rest will usually follow suit to remain as a group, and if they do not, there would be no reason for the escaped animal to risk leaving the group behind and going away from the safety of his enclosure.
"Any possibility of the animal having passed away or being weak and taken by a crow or cat would not have been possible.
"During the day all of the animals were checked several times, as they always are, and nothing out of the ordinary had been noticed about this particular animal."
Wingham Wildlife has asked anyone with information about the missing animal to contact park staff.