Spirit of Britain cross-Channel ferry arrives in Kent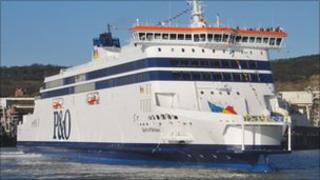 A new cross-Channel ferry, said to be the largest ever to operate between Calais and Dover, has arrived in Kent.
The Spirit of Britain, which cost about £150m, travelled from Finland, where it was built.
The P&O Ferries vessel is almost twice the size of the Pride of Dover, which it is replacing.
The ship weighs 49,000 tonnes and is 213 m (700ft) long. It had been due to arrive at the port's eastern docks at about 1100 GMT.
P&O said the Spirit of Britain was the first of a pair of new ships coming into service for the Dover to Calais route.
Its sister ship, the Spirit of France, is due for delivery in September.