Subsidence row keeps homes in Broadstairs street empty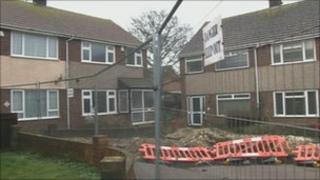 Families forced to abandon their homes in Kent over a year ago after sudden subsidence led to large cracks in walls and on the ground are still homeless.
Residents of six houses built on the site of a chalk quarry in Broadstairs moved out on 23 December 2009.
A row over whether or not a burst water main was responsible has led to a delay in repair work being undertaken.
Thanet District Council said it was waiting for insurance firms to instruct contractors to carry out the work.
'Fully sympathise'
It said once the work had been carried out, then it could check that the area was safe for residents to return.
A spokesperson said: "We fully sympathise with those affected and understand their frustrations, particularly as this situation has been going on for over a year.
"Unfortunately until the remedial works are completed, the council cannot take any further action."
A statement from Southern Water said "the main was burst by subsidence due to the area being built on disused chalk pits".
Jill Roach, who owns one of the houses in Victoria Road and has been living in rented accommodation since the ordeal began, said she had been told it could be another year before she would be able to move back home.